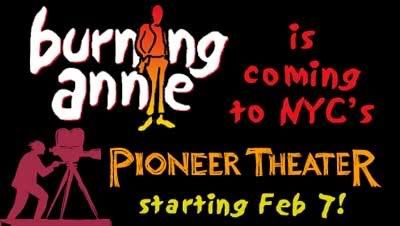 * Burning Annie hits theaters!
NYC engagement begins Feb 7 at the Pioneer

* Hello fans and supporters! After years and years of work, 18 film festival appearances, and six awards, I am psyched to announce Burning Annie will be playing at the Pioneer Theater in New York City starting on February 7...!

The Pioneer Theater

opens February 7, 2007

155 East 3rd Street
(between Avenues A and B)
New York City
Showtimes (212) 591-0434
Advanced tickets: (800) 595-4849

Please tell your friends in NYC! Each screening will be followed by a Q&A with the writer, co-director, and/or producer(s) and maybe even some cast. After-party to follow opening night and weekend shows. Group discounts available.
We couldn't have done it without all your help!!!

Burning Annie

Directed by Van Flesher

Written by Zack Ordynans

Produced by Randy Mack


College student Max (Gary Lundy of Donnie Darko) lives and breathes Woody Allen's seminal film, Annie Hall. In fact, Max believes the movie's message underscores the ultimate futility of romance. But just when Max begins to suspect that the movie is ruining his love life, a girl (Sara Downing of TV's "Roswell") who seems to be the modern incarnation of Annie Hall herself turns his world topsy-turvy. Meanwhile Max's friends—including Kim Murphy ("24"), Brian Klugman (Can't Hardly Wait), Jay Paulson (Go), Todd Duffey (Office Space), and Rini Bell (Jarhead, Ghost World)—must confront their own difficulties with the opposite sex.


This dark romantic comedy transcends homage as an original, unflinching, scathingly funny, bittersweet satire of modern love in the media age.

See ya at the theater!
_Randy (Mack)
co-writer/co-director/producer
Armak Productions

*********************************************************
BURNING ANNIE
www.BurningAnnie.com
*********************************************************

******     W I N N E R     ***************     W I N N E R     ******
*    B E S T   F E A T U R E    *   *    B E S T   F E A T U R E    *
*     MassBay Film Festival     *   *    West Virginia Filmmakers   *
*            2004               *   *       Film Festival 2004      *
*********************************   *********************************
*
*   WINNER * BEST SCREENPLAY * BEST DIRECTOR * BEST ACTOR *
*      * 2004 Tastie Awards * SMMASH Film Festival *
                                                                     
Nominated for FIVE Golden Starfish Awards at the Hamptons
   Int'l Film Festival * Best Feature, Best Lead Actor,
Best Director, Best Original Score, and Best Screenplay

************************************************************
www.BurningAnnie.com
************************************************************